In our life's work, we all want to be known as useful—as lights to the world! Yet, Jesus's instruction on how to accomplish this feat is quite surprising. Matthew 18:1-3 states:  
At the same time came the disciples unto Jesus, saying, Who is the greatest in the kingdom of heaven? And Jesus called a little child unto him, and set him in the midst of them, And said, Verily I say unto you, Except ye be converted, and become as little children, ye shall not enter into the kingdom of heaven. 
Not only will we not be "the greatest in the kingdom" if we do not learn how to humble ourselves—we won't even enter in!  
The more time I spend with my children, the more I realize this truth: they can teach me so much about how to be a better Christian! Read on to learn more about how to love like a child.  
1. Keep a sense of justice and fairness.
Whether it is playing a checkers game or pointing out their younger sibling's violation of a house rule, little children are sticklers for adhering to instructions. Why do you think the difference between telling and tattling has to be taught so often in kindergarten? On any given day, parents or teachers may hear: "That's not right!" or, "She's not supposed to do that!" Conversely, when the child himself breaks the rule, it may not take much questioning for him to fess up and hang his head in shame. 
But something happens as we get older. Subtleties enter into the equation such as being concerned about what peers think, the temptation of gaining an advantage, or fears from past discomfort. The sharp edges of right and wrong become dulled with nuance. We think, "Maybe I don't have to help this person because I have _______ going on. Or because they've done __________ to me in the past." Yet, being kind one to another and telling the truth are values that we can maintain from infancy to adulthood. The Bible commands us not to judge based on a person's temporal status, or treat people differently because they are less like us. May we strive to emulate the purity and innocence of a child as we confess our faults to God and grow closer to His word every day.  
2. Get excited.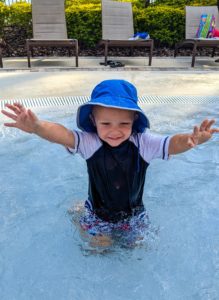 My oldest will yell and jump up and down while talking about the most ordinary of events: "Mommy! I saw a bird outside!" "Mommy! I did a good job washing my hands!" Yet gratitude is an attitude that adults need to practice every day. Why not notice and appreciate smaller blessings and accomplishments? Everything is wonderful and new to a child who is learning about the world for the first time. Just because we are calloused by some bad experiences, that doesn't mean we have to stop loving learning. And, although we don't as often rely on the love and approval of our earthly parents to get us through the day, we grow-ups can still move and speak with confidence because we know that our Heavenly Father loves us and is always looking out for our good.  
3. Forgive and forget.
I thank God for the grace of my children! Sometimes I think I have ruined them forever after I have a morning with too much shouting and not enough patience. But when I ask my children for forgiveness, they are quick to say, "It's okay!" They don't hold grudges, or dwell on one event for too long. There have been days where, unexpectedly, their full hearts will lead them to hug and comfort me because they can tell that I feel bad! May we similarly always care about the feelings of others and act less selfishly in our own relationships.  
In summation, we serve a God who cares so much for little children. And, who also calls us His children! Because we know that no person is too small to contribute to God's kingdom, may we strive to be meek enough to make a difference! 
What have you learned from the children you know?