"And these words, which I command thee this day, shall be in thine heart: And thou shalt teach them diligently unto thy children, and shalt talk of them when thou sittest in thine house, and when thou walkest by the way, and when thou liest down, and when thou risest up."
-Deuteronomy 6:6-7
As a mother of a three-year-old and a one-year-old, the one thing I have noticed is how much my children pick up from the world around them, and how early. The baby can mimic simple gestures he sees us do, and the toddler can quote whole episodes of online videos. I can carry on conversations with each with understanding, though the little one's response comes out as babbling! My hope with this post is that you will pick up some ideas to help you take advantage of this special time of learning in your child's life, and to help you organically sprinkle in more of the Bible's teachings in your days and nights together. Instruction doesn't always have to be formal, complicated, or lengthy, but if we are ready to take every opportunity we have—having a moment of encouragement before bed or a chat during the car ride home—we will help them develop the tools they need to thrive.
1. Engage them with your own daily study.
The great thing about this step is, it doesn't take any extra time if you are following a yearly plan, and it helps to rekindle your own enthusiasm in the Bible! If you are reading a few chapters a day, of course your toddler is not going to sit still and hang onto your every word. However, I do like to choose certain excerpts of my reading to speak aloud. Listen to the drama in a few of these common childhood stories:
Then said David to the Philistine, Thou comest to me with a sword, and with a spear, and with a shield: but I come to thee in the name of the Lord of hosts, the God of the armies of Israel, whom thou hast defied. (1 Samuel 17:45)
Also consider the time that Elijah built an altar in the name of the Lord before the prophets of Baal, with a great trench round about:
And he put the wood in order, and cut the bullock in pieces, and laid him on the wood, and said, Fill four barrels with water, and pour it on the burnt sacrifice, and on the wood. And he said, Do it the second time. And they did it the second time. And he said, Do it the third time. And they did it the third time. And the water ran round about the altar; and he filled the trench also with water…Then the fire of the Lord fell, and consumed the burnt sacrifice, and the wood, and the stones, and the dust, and licked up the water that was in the trench. (1 Kings 18:33-38)
What wonderful examples of the power of God! My older son likes to pretend to wield a sword, and dump water on the sacrifice. Some other of our favorite stories include the lives of Moses, Joseph, and Daniel. I like to use the interactive "Bible for Kids" app to add interest. Finally, remember that even if your child doesn't seem too into it at first, they are still watching you every time you enjoy reading from your Bible, going to church, bowing your head, or doing what is right. One day what they are seeing will start clicking with the scriptures you are saying, and your heart will rejoice as they follow right along!
2. Bring the Bible to life in your home.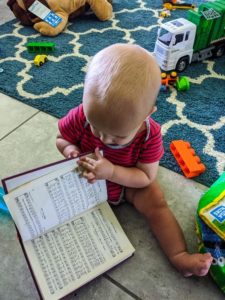 In addition to reading and playacting Bible stories, we like to sing hymns like "The God That Lived in the Olden Times," "The Solid Rock," and "Christ Arose" to bring scriptural concepts home. Also, there are several wonderful children's books and coloring books which pair nicely with the Scriptures; some of our favorites are pictured below. We enjoy having these resources, but the bottom line is, you don't have to purchase anything at all to get your children thinking about the word of God. There are so many beautiful illustrations in the Bible that can be conveyed as we go about our day—like the difference between light and dark, or the values of kindness and hard work.
To give an example, our son Jonah loves for us to "trap" him in our arms and try to keep him from escaping. Once he broke away and our game was done, I mentioned to him that Jesus came to Earth to set us free from our sadness and every bad thing we had ever done! He replied, "Yeah!" cheerily enough! Although I know he may not have a complete grasp of the concepts of sin and forgiveness yet, he knows from age three that Jesus saves and that His action is something to celebrate! As he grows older, I hope that these words, applied consistently, will stay with him and give him security in his heart.
3. Bring the Bible to life as you go about your day.
I find that nature is one of the best places for us all to reconnect with God. We can enjoy the beauty of creation and see many examples of Bible principles. Consider the examples of animals in Proverbs 30:24-28:
There be four things which are little upon the earth, but they are exceeding wise: The ants are a people not strong, yet they prepare their meat in the summer; The conies are but a feeble folk, yet make they their houses in the rocks; The locusts have no king, yet go they forth all of them by bands; The spider taketh hold with her hands, and is in kings' palaces.
Or the analogy of the true vine in John 15:1-4:
I am the true vine, and my Father is the husbandman. Every branch in me that beareth not fruit he taketh away: and every branch that beareth fruit, he purgeth it, that it may bring forth more fruit. Now ye are clean through the word which I have spoken unto you. Abide in me, and I in you. As the branch cannot bear fruit of itself, except it abide in the vine; no more can ye, except ye abide in me.
I find that children have a natural fascination with plants, animals, and the outdoors. Satisfy their curiosity with the sustaining spiritual food of God's word!
4. Pray constantly—in the morning, at mealtime, and at bedtime.
When we arise, praying sets a positive tone for the day by reminding us where our help and blessings come from, and for whose glory we go about our work! I like to speak my own prayer aloud, but I model it after the pattern found in Matthew 6. Here I include our church's list of prayer requests, so this may be the longest prayer of the day. I am not always good about slowing down and am usually rushing around in the morning! However, I hope that as my children grow, they will see that it is important to their mom to start the day seeking the Lord.
Pausing to bless the food before they eat is a simple way to have your child start to say their own prayers. Finally, I cannot stress enough how important bedtime prayers have become to our family. In the quiet of the evening, children need to know that they have someone to rely on, even when their parent cannot be around. We ask for His protection through the night, and thank God for his blessings given to us throughout the day. I also ask for forgiveness, sometimes for a specific issue I had: "Lord, please forgive me for becoming too stressed out, losing my temper, and not putting my family first today. Please help me do better tomorrow." I am a huge believer in being open with my children about my struggles, because it will teach them what I would like to do better at myself—it will teach them to bring their troubles to the Lord, being ready to listen to the changes they need to make, and to leave the troubles there.
As you climb into your own bed tonight, along with speaking prayers for your child's health, well-being, and safety, add a prayer for yourself, to gain the wisdom necessary to help your children grow strong in the nurture and admonition of the Lord (Ephesians 6:4). I thank you from the bottom of my heart for the hard work you are putting in already, and for the love that you have for your child. Be committed in this goal, and trust that God will be with you and bless your effort.
I would love to hear any tips that have worked well for you as you have raised or are raising your own children in the comments below! Also, if any of these ideas resonated with you, feel free to share this post with a friend!