Psalm 27:11 "Teach me thy way, O LORD, and lead me in a plain path, because of mine enemies."
One of my favorite statements from Lysa TerKeurst in her book Uninvited: Living Loved When You Feel Left Out, Less Than, and Lonely is that we need to remember who our enemy is. As we walk through life, there are many people that can make us feel disrespected, hurt, or angry. But I'm grateful to say, in the majority of the cases in my life, these people are good people. We do have an enemy, that is cheering on every base and evil action that occurs in this world. Satan wants us to feel discouraged, isolated, and helpless, but let's look at some Biblical truths about forgiveness–a one-way ticket through "a plain path" to a greater existence!
1. Non-forgiveness hurts us and limits our potential.
But the tongue can no man tame; it is an unruly evil, full of deadly poison. Therewith bless we God, even the Father; and therewith curse we men, which are made after the similitude of God. Out of the same mouth proceedeth blessing and cursing. My brethren, these things ought not so to be. Doth a fountain send forth at the same place sweet water and bitter? Can the fig tree, my brethren, bear olive berries? either a vine, figs? so can no fountain both yield salt water and fresh. Who is a wise man and endued with knowledge among you? let him shew out of a good conversation his works with meekness of wisdom. But if ye have bitter envying and strife in your hearts, glory not, and lie not against the truth. This wisdom descendeth not from above, but is earthly, sensual, devilish. For where envying and strife is, there is confusion and every evil work. But the wisdom that is from above is first pure, then peaceable, gentle, and easy to be intreated, full of mercy and good fruits, without partiality, and without hypocrisy. And the fruit of righteousness is sown in peace of them that make peace.
Humans are made in the image of God. In that light, we need to be careful about how we treat one another. Envious and emotional behavior, understandable as it may be, can transform our own character, even if we weren't the original aggressor. Observing the results of cursing others (bitter water, corrupt fruit), we can see that our choices can affect our witness, and those around us. Stress and stewing can lead to lashing out at work or home, even physical sickness. It's worth it to cling to "the wisdom that is from above," and enjoy its benefits.
The passage also tells us that worldly wisdom has the tendency to be partial and hypocritical. We see the same teaching in Luke 6: 41-45:
And why beholdest thou the mote that is in thy brother's eye, but perceivest not the beam that is in thine own eye? Either how canst thou say to thy brother, Brother, let me pull out the mote that is in thine eye, when thou thyself beholdest not the beam that is in thine own eye? Thou hypocrite, cast out first the beam out of thine own eye, and then shalt thou see clearly to pull out the mote that is in thy brother's eye. For a good tree bringeth not forth corrupt fruit; neither doth a corrupt tree bring forth good fruit. For every tree is known by his own fruit. For of thorns men do not gather figs, nor of a bramble bush gather they grapes. A good man out of the good treasure of his heart bringeth forth that which is good; and an evil man out of the evil treasure of his heart bringeth forth that which is evil: for of the abundance of the heart his mouth speaketh.
Here again we see the idea that what we think about–what we store up in our heart–is what is going to come out. It is easy to unintentionally sow confrontations or breaks in relationships when we get too caught up in the mindset of, "why did they do that to me? I would never do that to them." This mantra may be true, but isn't always helpful. We have all had times where we have acted in a way that was the opposite of how we should have acted–that we have regretted, and needed forgiveness for. We are all vulnerable to the temptations of the flesh without God's saving grace to us.
That is not to say that you should endure all sorts of mistreatment.
2. With prayer, decide on an appropriate solution.
One solution would be to let go of the problem. Notice, however, that the verbs in the following verses are still very active. Forgiveness isn't passive, but requires humility, faith, and strength of heart. It is a way of addressing the problem–not simply glossing over it, and pretending like nothing happened.
1 Peter 5:6-7: "Humble yourselves therefore under the mighty hand of God, that he may exalt you in due time: Casting all your care upon him; for he careth for you."
Philippians 4:6-7: "Be careful for nothing; but in every thing by prayer and supplication with thanksgiving let your requests be made known unto God. And the peace of God, which passeth all understanding, shall keep your hearts and minds through Christ Jesus."
"Humble yourselves." "Cast your cares." "Be careful for nothing." Pray, make supplication with thanksgiving. To be willing to overlook a brother's fault, we must be willing to rely on God completely. This excludes harboring some secret resentment towards a person that is just going to rear up the next time they make us mad. There is a great comfort in knowing that He hears and answers our prayers, that His will is always in our best interest, that He is nearby, working in our lives. Since we know God's preservation, promises, and timing are good, we can let go of worries for tomorrow, and the need to settle everything ourselves.
Just as he cares for us, God cares for our brothers and sisters who may struggle and stray. He instructs us in Luke 17:3-4: "Take heed to yourselves: If thy brother trespass against thee, rebuke him; and if he repent, forgive him. And if he trespass against thee seven times in a day, and seven times in a day turn again to thee, saying, I repent; thou shalt forgive him."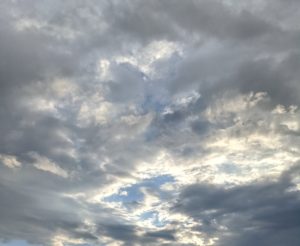 We need to be generous when our friends and neighbors make mistakes. But the verse does say, "if he repent." Unfortunately, the person you are in conflict with may not be in the same conciliatory mindset as you. If a person is willfully and continually mistreating you, you don't have to allow that. Communicate your feelings, in a respectful manner, but directly.
Moreover if thy brother shall trespass against thee, go and tell him his fault between thee and him alone: if he shall hear thee, thou hast gained thy brother. But if he will not hear [thee, then] take with thee one or two more, that in the mouth of two or three witnesses every word may be established. And if he shall neglect to hear them, tell [it] unto the church: but if he neglect to hear the church, let him be unto thee as an heathen man and a publican.
There are stages of intervention for every circumstance. Some distance or a break may be necessary to revive health back into a relationship. Walking with honesty, with a humble heart that knows that you are not better than anyone else–that strives, like its Maker, to have everyone it comes in contact with to discover the way back to peace, righteousness, and friendship–is essential.
Prayer:
Dear God, help us to discern right from wrong according to your word. Help us to love those that would hate and misuse us, and desire that they may come to repentance. Help us to show kindness and patience, and protect us. We crave your intervention for them, and for ourselves. Help all of your children dwell together in unity, blessing one another, in your example. In Jesus's name, Amen.
What tips do you have for forgiveness? Let me know in the comments, and be sure to check out my other posts on relationships!